There is a lot to love about the new Bronco Sport, a true American legend. The combination of power and comfort, versatility and dedication, make this the vehicle for the rugged terrain of off roading with the comfort of traversing a city highway. Inside and out, the 2023 Bronco Sport is something you need to see for yourself.
Visit Veterans Ford to see the current Bronco Sport inventory today!
Ready for Whatever the Road Brings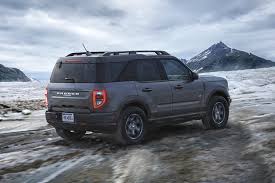 You won't need to choose between a comfortable ride or an off-road machine with the 2022 Ford Bronco- it offers something for everyone. With plenty of ground clearance and an efficient 28mpg on the highway, you are ready for whatever the road brings. Choose the trim package that suits you best- like the Badlands model, perfect for overnight excursions and outdoor adventure. All trim packages come with a Terrain Management System, standard, which can help you conquer any terrain. With specific modes for the conditions, you are equipped to handle sand, ice, speed, everyday conditions- as well as an eco-mode that helps you maximize your fuel efficiency.
Designed for Work and for Play
So, is the 2023 Bronco Sport a work or play vehicle? The answer is that it is the perfect crossover between an SUV and an off-road truck. It is perfect for an everyday ride, but also rises to the challenge of towing or stowing, as needed. Choose features that suit your needs best for a dependable and sharp vehicle that turns heads. Some of the highlights and specs of the 2023 Bronco Sport include:
All-wheel drive

A 1.5-liter V3 engine and 181 horsepower, some packages feature 2.0-liter V4 engine and 245 horsepower

Eight-speed automatic transmission

2,000- 2,200 lb. towing capacity

1-inch suspension lift

17-inch all-terrain tires

190 ft.lb of torque
The Safari-style roof and ample seating easily accommodate five adults safely and comfortably. Visit your local Ford dealership to learn more!
Comfort and Convenience, Combined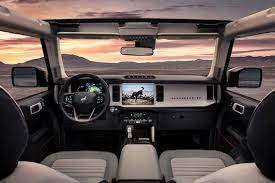 With the new 2023 Bronco Sport, you won't need to choose between comfort and the convenience of a utility vehicle. The aesthetic appeal and luxurious interior provide the perfect everyday ride, while the storage capacity and 4x4 capability make it a workhorse that is tough to beat.
Stow your bikes and upto 150 pounds of storage on the roof sport rack while you enjoy ample legroom and a roomy headliner for interior comfort that makes driving a pleasure.
Some of the other compelling features that add to your experience are:
Surround sound speaker and high-end audio system, including AM and FM radio

SYNC 3 Voice Recognition technology

Apple Carplay Compatibility, with your iPhone

Android Auto Compatibility, with your Android phone

Collision assist technology

Rear back-up camera system
Visit your local Ford dealer to see the 2023 Ford Bronco Sport for yourself. Check out the online inventory and test-drive one today!
Safety Comes First
As with all Ford vehicles, safety comes first. For this reason, there are some distinctive safety features of the all-new 2023 Ford Bronco Sport that are worth taking a second look. These provide the assurance you want that your loved ones are protected, but also the peace of mind that comes with driving a reliable and reputable vehicle. Consider these highlights:
Pre-Collision assist technology

Automatic emergency brake system

Blind-Spot detection and cross-traffic alert

Lane-Keeping technology

Rear-view monitor
Additionally, the 2023 Bronco Sport comes standard with 9-1-1 assist, which helps dial for emergency services when activated. This technology could save time in the event of an accident, incident, or medical crisis.
Have you seen the new 2023 Bronco Sport? Treat yourself to a closer look at the current Bronco Sport inventory today at your local Ford dealership.
For comfort and durability, you can't go wrong with a Ford Bronco, and the all-new Bronco Sport offers a lot of features you simply won't find in other SUVs, trucks, or vehicles. Come visit Veterans Ford of Tampa and test-drive one today.